Our warehouse is fully stocked with a range of beds & mattresses at bargain prices!
Great selection of beds & mattresses at low prices in-store
Beds & mattresses at BCB Warehouse are at 'bargain basement' prices because we spend more on lowering prices for our customers than we do on fancy décor for our premises. This means we can offer unbeatable value on beds and mattresses – in stock ready to take home or have delivered today. We also offer top notch service, the old fashioned way of helping you through the selecting, buying of beds. We stock quality brands for rock bottom prices!
Five signs you may need a new bed...
I have had my mattress over 5 years.
I wake up with a twinge in my back
My individually sprung mattress isn't working
I wake up with itchy skin
I don't get a good night's sleep
You might not think about it quite like this; but really you have a relationship with your bed. You spend the best part of the day with it! So it should be looking after you. However, when your mattress starts to give you a pain in the neck or back, it's probably time to move on and start a new relationship with a new bed or mattress. Time to visit BCB Warehouse!
Get a good night's sleep again!
We stock or can order leading brands and non-branded ones, too. You can choose among Singles and Doubles; Kings and Queens; Adjustable beds or basic ones.
Basic beds start from under £100. 
Child's bed: 76 x 190 cm / 2′6″ x 6′3″
Single bed:  91 x 190 cm / 3′ x 6′3″
Small Double:  122 x 190 cm / 4′ x 6′3″
Double bed:  137 x 190 cm / 4′6″ x 6′3″
Larger Sizes:  come along and stretch out to see whether a Queen, King or super size is right for you.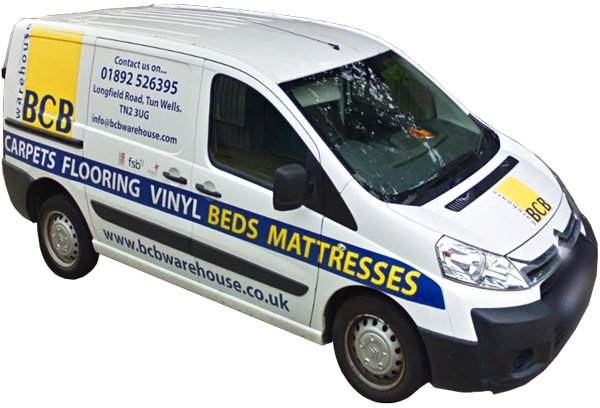 We deliver anywhere in Kent and to many neighbouring counties, from Gatwick to Dover and Dartford to Hastings! Wherever you live in the South East, please get in touch for a better understanding on whether we deliver to your location.